Cathedral High School


Class Of 1969
In Memory
Michael O'Hara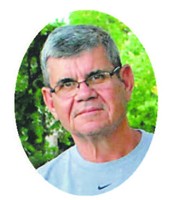 Mick O'Hara (1951 - 2014)
Obituary
Guest Book
"Mick taught us all how to live - right to the end! Humble,..."
- Joe Maiers
View Sign
Mick O'Hara, 63
St. Cloud
Jan. 25, 1951 - Feb. 18, 2014
Mass of Christian Burial will be 11:00 a.m. on Saturday, February 22, 2014 at St. Paul's Catholic Church in St. Cloud for Michael R. "Mick" O'Hara, age 63 of St. Cloud who passed away peacefully Tuesday, February 18, 2014 at home surrounded by family seven months after his cancer diagnosis. Reverend LeRoy Scheierl will officiate. Interment will take place at a later date at Assumption Cemetery, St. Cloud.
Visitation for family and friends will be from 4:00 p.m. until 8:00 p.m. on Friday and after 10:00 a.m. on Saturday at St. Paul's Catholic Church in St. Cloud. Arrangements were made by the Daniel Funeral Home, St. Cloud.
Mick was born January 25, 1951 in St. Cloud, Minnesota to Sid and Margaret (O'Leary) O'Hara. He married Mary Ann Schill on September 30, 1972 at St. Augustine's Catholic Church, St. Cloud. Mick worked as a salesman for St. Cloud Jobbing before entering into business with his brother, Tim in 1978. He was part owner of O'Hara Brothers Pub until 1991. For the past 23 years he was a salesman at Granite City Jobbing while also enjoying part-time jobs at the MAC and St. Cloud Times. Mick was a member of St. Paul's Parish and Sports Incorporated.
He was a devoted husband, father and grandfather always enjoying time with family. Mick had a passion for baseball with great memories of Twins games, the boys' games and especially enjoyed his days coaching. Mick was a humble man who was grateful for the small pleasures in life.
Left to cherish his memory are his wife, Mary "Pixie"; sons, Kelly (Jessie) of St. Cloud, Ryan (Jaime) of St. Cloud, Phil (Jenny) of Albertville; eight grandchildren, Carly, Blake, Kate, Melanie, Maggie, Maycee, Erynn and Jakob; sister, Patricia (Jerry) Boerboom of Alexandria; brothers, Denny of Superior, Wisconsin, Tim, Chip (Vickie) and Terry (Chris) all of St. Cloud.
He was preceded in death by his parents.
Mick's family conveys their gratitude to all those who cared for Mick during his illness.
Memorials are preferred in lieu of flowers.
- See more at: http://www.legacy.com/obituaries/sctimes/obituary.aspx?n=mick-ohara&pid=169769018#sthash.6BxfiCGD.dpuf